We Renovate and restore all components!
Renovate = by that we mean, for example, that worn parts are replaced in a functioning engine.
Restore = for us it means that we basically restore the entire bike or engine to new condition. The engine e.g. will actually be brand new with exactly the specifications the factory once set for it.
This often means that we need to weld, mill and machine broken parts in the engine's basic structure. We often upgrade the engine to today's standard - for example, better sealing and oil control. We also often lighten pistons and connecting rods.
Most of the engines we restore are in reality like those built today. In addition, we modify many engines for a much higher power output. Among other things, by extending the engine's stroke length.
---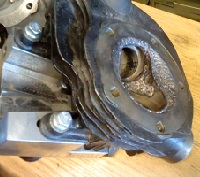 Top being restored